Click on the logos to follow us on these websites:

"Congratulations to Bonnie Doone Manor-On-The-Beach!
TripAdvisor is delighted to award
Bonnie Doone Manor-On-The-Beach
the 2018 Certificate of Excellence.
This achievement is a direct result of your consistently
great reviews from TripAdvisor travelers."
Bonnie Doone Manor on the Beach has been owned and operated by the same family for over 60 years and is the only hotel in Grand Bend that is right at the beach. We are a peaceful part of exciting Grand Bend and the perfect destination for couples and families with children. Dogs and cats are welcome for a small fee. Our buildings are smoke free. Free wireless access is available in all of our rooms.
You can sit on our terraced lawn and watch the sunset from our famous chairs or wander across the road to one of the most beautiful beaches on the shores of Lake Huron. We are located just steps to the beach, Main Street and the new children's water park.
Discover the charm of Bonnie Doones's 16 unique comfortable rooms, two with fireplaces, four with kitchens, four with balconies, and all with refrigerators, air conditioning and private baths.
Bonnie Doone is one of the most popular accommodation destinations in the area and we advise that you book early to avoid disappointment. It will be "our pleasure" to make your stay an enjoyable one at Bonnie Doone...

The famous Bonnie Doone Chairs!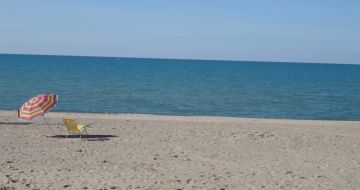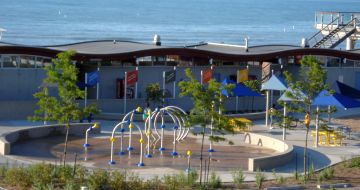 The Beach in front of Bonnie Doone
The new Children's Water Park by the bath house
Grand Bend Beach Achieves Blue Flag Designation!
The Blue Flag Program for beaches and marinas is run by the non-governmental, non-profit organization called the "Foundation for Environmental Education" (FEE). Started in France in 1985, the Blue Flag Program now exists in 38 countries.
A Blue Flag designation means Grand Bend's beach has met strict guidelines and criteria dealing with water quality, environmental education and information, environmental management and safety and other services. These criteria include cleanliness, provisions for waste and recycling, zoning of activities and environmental education activities for a variety of people.
These amazing sunset photos were taken from the front lawn of Bonnie Doone: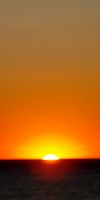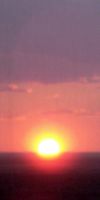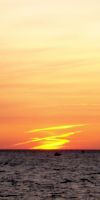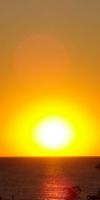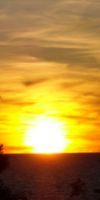 Enjoy the Grand Bend beach with confidence!